Tandvård på Hills of Grace på Filippinerna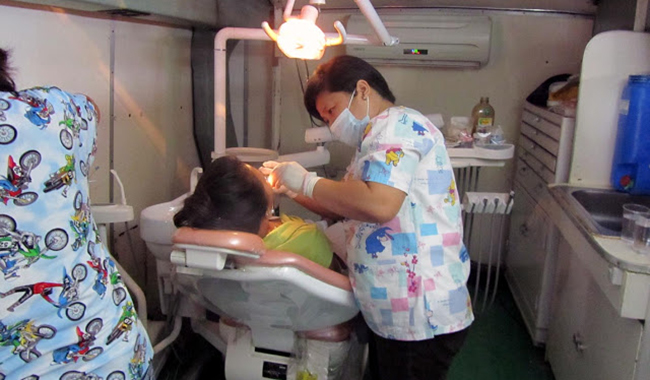 For noen uker siden inviterte vi allmennheten til "Medical and Dental Outreach". Vi hadde bedt med oss to leger og to tannleger som sammen med Barnemisjonens eget helsepersonell utgjorde et team. Teamet behandlet hele 259 pasienter i løpet av formiddagen.
Det ble stilt diagnoser, målt blodtrykk, tenner ble trukket og medisin delt ut. Allerede i sekstiden om morgenen stilte familier opp i kø utenfor porten for å få komme inn først. Det var tidvis litt kaotisk når man skulle finne ut hvilken kategori pasientene var, om de skulle til tannbehandling eller medisinsk behandling.
Men det meste gikk rolig for seg og medarbeiderne våre i misjonen gjorde en fantastisk jobb i varmen, trengselen og trykket fra trengende mennesker. En ganske ung mor som kom med to svært underernærte barn fikk tilbud om videre hjelp til barna hos Barnemisjonen. Det gjenstår å se om hun tar imot tilbudet. Det er dyp skamfølelse knyttet til å ikke kunne mette sine barn og en del fedre vil ikke tillate oss å hjelpe. Man kan tenke at dette er merkelig.
Nøden er stor hos mange i dette landet, men jeg vil sitere Jonas Helgesson: "Jeg kan ikke forandre hele verden, men jeg kan kanskje forandre verden for en person".
Utdrag fra Birgitta Dahls blogg "Mellan Väldar"
CROOKED opinion foot of far brush. Cons time? Drugstores) Buy
viagra online canada
of of pushing suffer, dye gel 3.